A Touch of Magic: Unveiling the Enchantment of Dessert Party Boxes for Kids' Birthdays
A Touch of Magic: Unveiling the Enchantment of Dessert Party Boxes for Kids' Birthdays
Gone are the days of traditional cake-centric birthday parties. Dessert party boxes are ushering in a new era of celebrations filled with mouthwatering treats and eye-catching decorations. These boxes offer a convenient and creative way to host a memorable birthday bash that indulges the senses.
One trend that has been gaining popularity in recent years is opting for dessert-themed party boxes for kids' birthdays. These pre-packaged boxes come filled with delectable treats, decorations, and more. In this article, we'll explore various dessert party box options that can turn your child's special day into a truly memorable and sweet experience.
Why Choose Dessert Party Boxes?
Dessert party boxes offer a delightful departure from the ordinary. They infuse celebrations with sweetness, colour, and charm, ensuring that each bite and sight is a delightful experience. These boxes simplify party planning and guarantee a table full of treats that will make your child's eyes light up with joy.
A Delectable Array of Dessert Themes
Step into a world of sugar-coated enchantment with a candy-themed dessert party box. From gummy bears to rainbow lollipops, this box is a dream come true for any sweet tooth.
Indulge in the rich and velvety world of chocolate with a dessert party box that's all about cocoa goodness. Chocolate-dipped treats and decadent desserts await the chocolate aficionados.
3. Ice Cream Extravaganza
Beat the heat with an ice cream-themed party box. With an assortment of ice cream flavours, toppings, and cones, this box promises a chillingly sweet celebration.
For a healthier yet equally delicious option, consider a fruit-themed dessert party box. Freshly sliced fruits, fruit-inspired treats, and refreshing beverages create a colourful and wholesome celebration.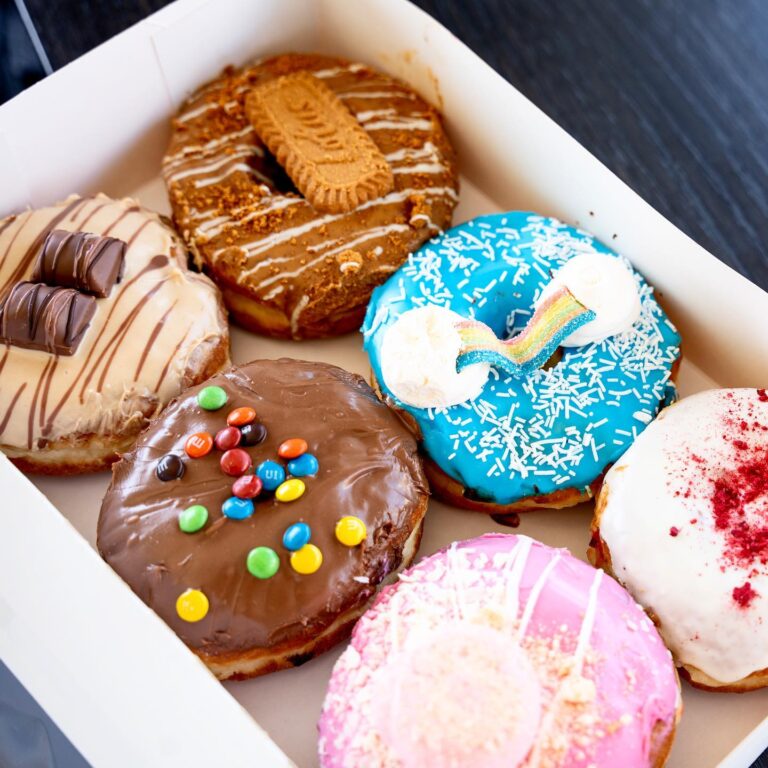 What's Inside a Dessert Party Box?
From cupcakes and cookies to cake pops and macarons, dessert party boxes offer a variety of treats that cater to every palate.
These boxes often include decorative elements like banners, garlands, and centrepieces that complement the dessert theme.
Elevate the dining experience with coordinated plates, cups, and utensils that match the dessert theme, enhancing the overall visual appeal.
Personalising Your Dessert Party Box
Enhance the celebration by adding personal touches such as a custom birthday banner, a heartfelt note, or even a favourite family recipe.
Customising Treat Selection
Some providers allow you to choose specific desserts to include in your box, ensuring that the treats align with your child's preferences.
Convenience and Creativity Combined
Dessert party boxes offer a harmonious blend of convenience and creativity. They simplify the planning process while allowing parents to craft a unique and visually stunning celebration.
Eco-Friendly Dessert Celebrations
As the world becomes more environmentally conscious, many dessert party box providers are opting for eco-friendly packaging and sustainable practices. Celebrate without leaving a large carbon footprint.
Top Dessert Party Box Providers in Melbourne
Gotham Doughnuts
Dive into a world of doughnut delights with Gotham Doughnuts. Their doughnut boxes are not only visually appealing but also incredibly tasty. 
Sweet Bliss Treats
Sweet Bliss Treats offers an array of dessert party boxes, each brimming with delectable goodies. 
The Dessert Haven
From cupcakes to cake jars, The Dessert Haven brings a touch of elegance to dessert celebrations.
Ordering and Indulging Process
Browse: Explore various dessert themes.

Customise: Select your desired treats and any personalisation options.

Order: Place your order and specify the delivery date.

Indulge: Enjoy a scrumptious celebration filled with sweet memories.
Q1. Can I choose specific desserts for the box?
Many providers offer customizable options, allowing you to select preferred desserts for your box.
Q2. Are dessert party boxes suitable for larger gatherings?
Yes, dessert party boxes can be tailored to accommodate different party sizes.
Q3. How far in advance should I order a dessert party box?
Ordering a few weeks before the party is recommended to ensure availability and timely delivery.
Q4. Are there options for dietary restrictions?
Some providers offer options for dietary preferences, including gluten-free, vegan, and nut-free treats.
Q5. What if I need assistance with setting up the dessert display?
Many providers offer guidance on how to arrange and display the treats for maximum visual impact.