Doughnuts Delivery Melbourne: Flavorful Delights at Your Doorstep
Doughnuts Delivery Melbourne: Flavorful Delights at Your Doorstep
Are you craving a delectable treat that can satisfy your sweet tooth? Look no further! Doughnuts are the perfect solution, and the best part is that you can have them delivered right to your doorstep in Melbourne. With a wide range of flavours to choose from, Gotham Doughnuts offers doughnuts delivery Melbourne which would be a convenient and delightful way to indulge in our mouthwatering doughnut treats.
Doughnuts have been a beloved treat for generations. Whether you prefer classic flavours or unique creations, these circular delights from Gotham Doughnuts never fail to bring a smile to your face. From the moment you take a bite into the soft, pillowy dough to the explosion of flavours in your mouth, every aspect of enjoying a doughnut is a joyous experience. The combination of sweet glazes, creamy fillings, and delightful toppings creates a symphony of flavours that tantalise your taste buds.
Doughnuts Delivery Melbourne
Convenience and Accessibility
With the hectic pace of life, finding time to visit our doughnut shop may not always be feasible. Doughnut delivery services eliminate this hassle by bringing delicious treats to you. Whether you're at home, in the office, or hosting a gathering, having doughnuts delivered ensures that you can enjoy these delightful goodies without any inconvenience.
Wide Variety of Flavors
One of the most exciting aspects of doughnuts delivery Melbourne is the vast array of doughnut flavours available. From classic options like glazed and chocolate to more adventurous combinations like caramel kat, rocky road, strawberry ring, lemon meringue, and coffee, there is something to suit every palate. Each flavour offers a unique taste experience, allowing you to explore and discover your personal favourites.
Freshly Made and Delivered
When you order doughnuts for delivery, you can expect nothing less than freshness. We prioritise the quality of our products, ensuring that each doughnut is made with care and delivered at its peak flavour. You can indulge in these delectable treats knowing that they are freshly made just for you.
Exploring Flavorful Delights
Now, let's dive into some of the tantalising world of doughnut flavours available through doughnuts delivery Melbourne. Each of these unique creations will take your taste buds on a delightful journey.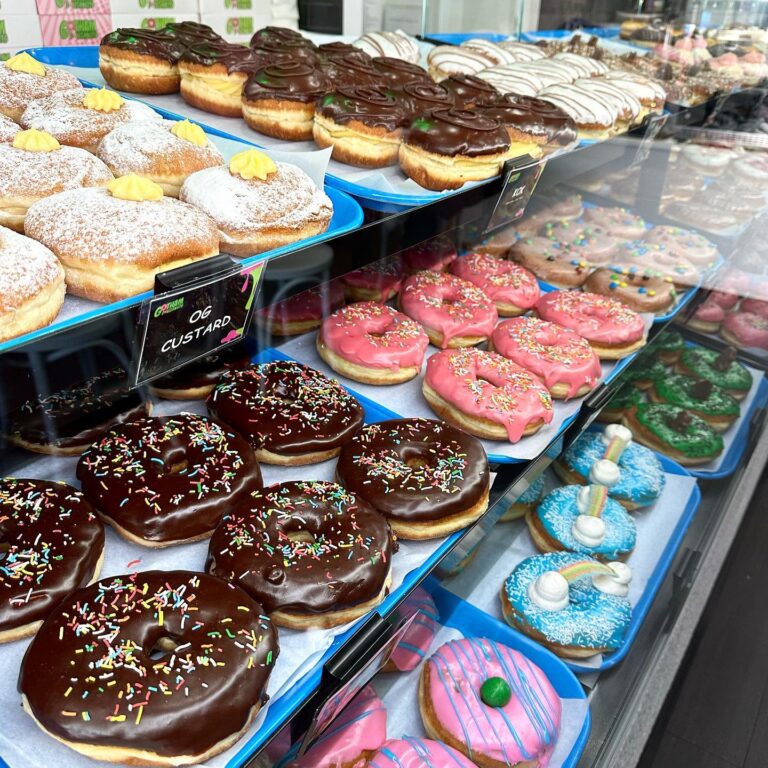 The Caramel Kat doughnut is a heavenly combination of caramel and rich chocolate. With its luscious caramel glaze, creamy filling, and a sprinkle of chocolate shavings, this doughnut is pure indulgence. Each bite is a blissful experience that will leave you craving for more.
If you love the classic rocky road flavour, you're in luck! The Rocky Road doughnut is a delightful twist on the beloved ice cream flavour. Imagine a fluffy doughnut coated in smooth chocolate glaze, topped with crunchy peanuts, mini marshmallows, and a drizzle of chocolate sauce. Each bite offers a perfect balance of textures and flavours, creating a truly heavenly treat.
For those who appreciate the refreshing taste of strawberries, the Strawberry Ring doughnut is a must-try. This doughnut features a soft ring-shaped pastry glazed with luscious strawberry icing. The sweet and tangy flavour of fresh strawberries is beautifully infused into every bite, making it a delightful choice for fruit lovers.
If you crave a zesty and citrusy treat, the Lemon Meringue doughnut is an excellent option. Picture a fluffy doughnut filled with tangy lemon custard, topped with a fluffy meringue swirl. The combination of sweet and sour flavours creates a harmonious blend that will leave your taste buds tingling with delight.
Calling all coffee enthusiasts! The Coffee doughnut is a dream come true. This delectable creation combines the rich and robust flavours of coffee with the sweet indulgence of a doughnut. With a coffee-infused glaze and a sprinkle of finely ground espresso beans on top, this doughnut is a perfect pick-me-up for any time of the day.
Now that your taste buds are undoubtedly tantalised, it's time to place an order and experience the joy of doughnuts delivery Melbourne. You can place an order through door dash or uber eats, by Simply visiting the app, browsing through the menu, and selecting your desired flavours and quantities. Provide your delivery details, choose a convenient time slot, and proceed to checkout. Within no time, your freshly made, flavorful doughnuts will be on their way to your doorstep.
Doughnuts Delivery Melbourne brings the delightful world of flavours right to your home or office. With the convenience of online ordering and a wide variety of mouthwatering options, indulging in these flavorful treats has never been easier. From the luscious Caramel Kat doughnut to the zesty Lemon Meringue creation, each flavour offers a unique and satisfying experience. So go ahead, treat yourself to a box of doughnuts, and savour the joy they bring.
1. How long does the doughnut delivery take?
The delivery time may vary depending on the doughnut delivery service and your location within Melbourne. Typically, you can expect your doughnuts to arrive within 30 minutes to an hour.
2. Can I customise my doughnut order?
Yes, some doughnut flavours have customisation options. You can choose different glazes, fillings, and toppings to create your perfect doughnut combination.
3. Are the doughnuts freshly made?
Yes, Gotham Doughnuts prioritise the freshness of our products. The doughnuts are usually made to order, ensuring that you receive them at their peak flavour.
4. Do doughnut delivery services offer vegan or gluten-free options?
Yes, we do have vegan or gluten-free options to cater to different dietary preferences and restrictions.
5. Can I order a pickup?
Yes, Gotham Doughnuts also have an in-store doughnut pick-up option. In-store pick-up allows customers to order their favourite doughnuts online and then pick them up at their convenience from the store location. We do have an outlet at Moonee Ponds, Bundoora, Ivanhoe, and Caroline Springs.