Food Platters in Melbourne: A Delectable Culinary Experience
Food Platters in Melbourne: A Delectable Culinary Experience
Welcome to the culinary paradise of Melbourne, where food platters have become the talk of the town! Whether you're hosting a grand celebration, a corporate event, or an intimate gathering with friends, food platters offer an exquisite culinary experience that is sure to impress. In this blog, we will explore the diverse world of food platters in Melbourne, highlighting the mouthwatering options available, the top places to order them, and how they can elevate any occasion with their irresistible charm.
Food platters are not just a delicious assortment of treats; they are a culinary masterpiece. Each platter is thoughtfully curated, blending a symphony of flavours, textures, and colours to create an enticing feast for both the eyes and the palate. Melbourne's talented chefs and caterers take immense pride in their craft, ensuring that every food platter is not only a delight to taste but also a visual spectacle.
The Diverse Selection of Food Platters
Melbourne's culinary diversity shines through in the array of food platter options available. From savoury to sweet and everything in between, there's a perfect platter for every event and every palate. Let's take a look at some popular food platter choices:
Gotham Doughnuts Party Box: For a unique twist, consider the delightful Gotham Doughnuts Party Box, featuring an assortment of gourmet doughnuts that will leave your guests craving more.
Antipasto Platters: Embrace the Mediterranean flavours with antipasto platters featuring a tantalising mix of marinated olives, sundried tomatoes, Italian meats, artisanal cheeses, and crusty bread.
Seafood Platters: For seafood lovers, these platters present an oceanic delight with fresh prawns, smoked salmon, oysters, and an assortment of dipping sauces.
Fruit Platters: A burst of freshness and colour, fruit platters showcase an abundance of seasonal fruits artfully arranged to tempt your taste buds.
Dessert Platters: Indulge your sweet tooth with dessert platters brimming with delectable mini cakes, pastries, chocolates, and other delightful confections.
Cheese and Charcuterie Platters: A timeless classic, these platters boast an assortment of premium cheeses, cured meats, fresh fruits, nuts, and gourmet crackers. Perfect for wine and cheese enthusiasts!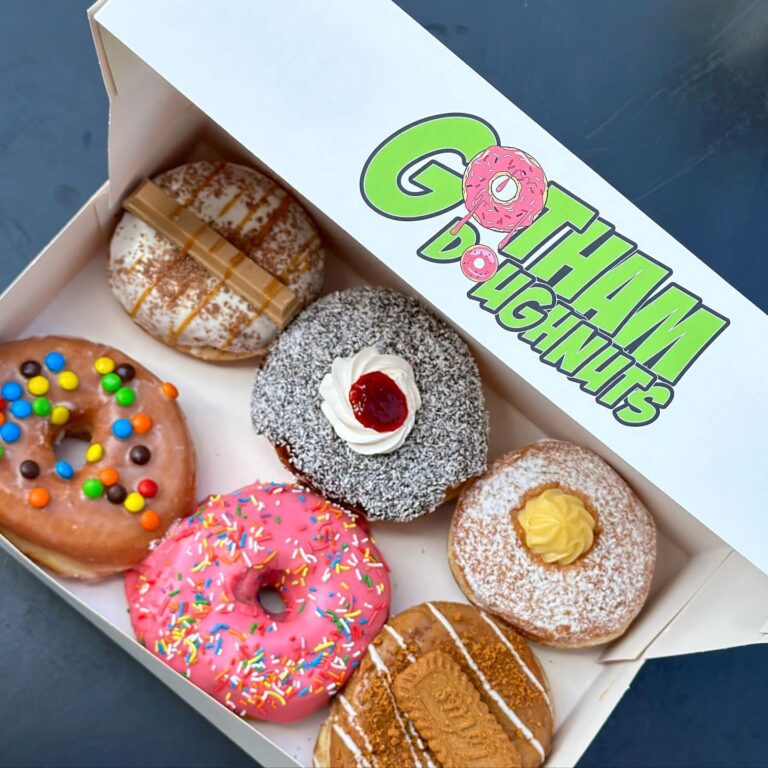 The Best Places for Food Platters in Melbourne
To ensure an unforgettable experience, it's essential to source your food platters from reputable establishments known for their exceptional quality and creative flair. Here are some top-rated places in Melbourne where you can order the finest food platters:
Gotham Doughnuts: For those seeking a sweet addition to their events,

Gotham Doughnuts Party Box

offers scrumptious doughnuts in a variety of flavours, adding a delightful twist to your food platters.

Savor & Graze: Renowned for their lavish grazing platters, Savor & Graze offers an opulent selection of gourmet cheeses, charcuterie, and accompaniments that are sure to impress.
The Platter Co.: With a focus on premium, locally sourced ingredients, The Platter Co. crafts stunning platters that are a feast for both the eyes and the taste buds.
Bountiful Platters: Specialising in fruit and dessert platters, Bountiful Platters delivers an explosion of flavours and colours that will elevate any occasion.
The Artful Platter: True to its name, The Artful Platter creates culinary masterpieces, fusing unique flavours and artisanal ingredients to delight your senses.
The Fish Market: Catering to seafood enthusiasts, The Fish Market offers an impressive selection of fresh seafood platters that will transport you to the ocean's bounty.
FAQs about Food Platters in Melbourne
Q: What types of events are food platters suitable for?
A: Food platters are perfect for various events, including weddings, parties, corporate functions, picnics, and even casual gatherings with friends.
Q: Can food platters be customised to suit dietary preferences and allergies?
A: Yes, many catering services in Melbourne offer customisable options to cater to vegetarians, vegans, and individuals with dietary restrictions.
Q: How can I ensure that the food platters are fresh and of the highest quality?
A: Reputable catering services prioritise using the freshest ingredients and ensure timely delivery to maintain the quality of the platters.
Q: How far in advance should I order food platters for my event?
A: It's advisable to place your order at least 48 hours in advance to allow ample time for preparation and to secure your preferred catering service.
Q: Are there options to include additional items like beverages or special requests with the food platters?
A: Yes, many catering services offer beverage packages and can accommodate special requests to tailor the platters according to your preferences.
Food platters in Melbourne are not just a meal; they are an experience that tantalises your taste buds and captivates your senses. With an impressive variety of platter options and the creative expertise of Melbourne's culinary artisans, your events are bound to be memorable and delightful. So, the next time you plan an occasion, treat your guests to the culinary wonders of food platters and the delightful twist of Gotham Doughnuts Party Box, embarking on a journey of culinary excellence that Melbourne has to offer. Enquire now!