Make your Birthday Super Sweet with Delicious Doughnuts Melbourne
Make your Birthday Super Sweet with Delicious Doughnuts Melbourne
Are you a doughnut lover? Do you want to make your birthday a truly memorable and sweet occasion? Look no further than Gotham Doughnuts! Located in Melbourne, Gotham Doughnuts is the ultimate destination for delicious and mouthwatering doughnuts for birthdays that will satisfy your cravings and delight your taste buds. In this article, we will explore the delectable world of Gotham Doughnuts and discover why we are the perfect choice to make your birthday super sweet. So, grab a cup of coffee, sit back, and indulge in the irresistible world of doughnuts!
The Art of Crafting Doughnuts Melbourne
Creating the perfect doughnut is no easy feat, but at Gotham Doughnuts, we have mastered the art. Our expert bakers combine premium ingredients with a touch of creativity to produce doughnuts that are fluffy, flavorful, and visually appealing. Each doughnut is carefully crafted by hand, ensuring that every bite delivers an explosion of taste and texture.
A Variety of Flavors and Toppings
Gotham Doughnuts takes pride in offering the best doughnuts Melbourne with an extensive range of flavours and toppings to cater to every palate. From classic favourites like glazed and chocolate to innovative creations like matcha and salted caramel, there's a doughnut for everyone. You can also choose from an array of delectable toppings, including sprinkles, nuts, and creamy fillings, to take your doughnut experience to new heights.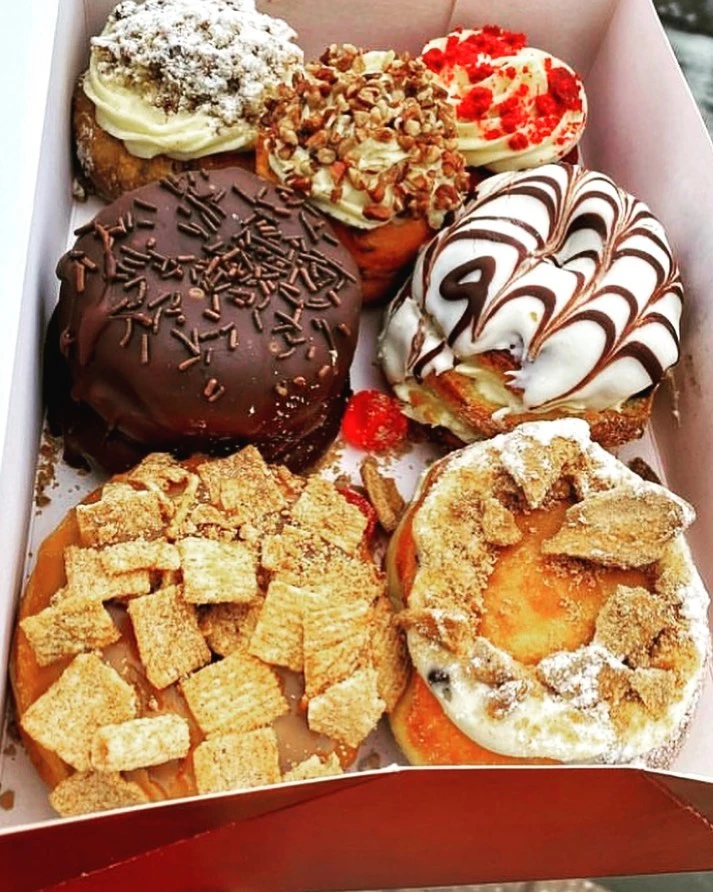 Customised Doughnuts for Birthdays
Birthdays are a time for celebration, and we understand the importance of making it extra special. We offer customized doughnuts that can be personalized with flavours and toppings. Imagine surprising your loved one with a box of doughnuts adorned with adorable toppings out in delicious glaze. It's a sweet gesture that will leave a lasting impression.
Ordering Process Made Easy
We believe that ordering delicious doughnuts should be a hassle-free experience. Ordering desired doughnut flavours and quantities is just a few clicks away. Place your order today for your party!
Delivery and Pick-up Options
Convenience is key, and Gotham Doughnuts Melbourne offers flexible delivery and pick-up options to cater to your needs. If you prefer to have the doughnuts delivered to your doorstep, you can find us on door dash and uber eats. Alternatively, you can opt for pick-up from our conveniently located store at Moonee Ponds, Bundoora, Ivanhoe, and Caroline Springs.
Doughnuts for Special Dietary Needs
Gotham Doughnuts believes that everyone should be able to indulge in our delectable treats, regardless of dietary restrictions. That's why we offer a range of doughnuts for special dietary needs, including vegan, gluten-free, and nut-free options. Now, no one has to miss out on the joy of biting into a heavenly doughnut.
Creating Lasting Memories
Gotham Doughnuts believes that every doughnut is an opportunity to create a lasting memory. Whether it's a child's first taste of a doughnut or a group of friends bonding over a shared box, these delectable treats have a way of bringing people together. The joy and laughter shared over a plate of Gotham Doughnuts will be remembered long after the last crumb is gone.
Looking for a unique and delicious gift for a loved one? Gotham Doughnuts offers gift boxes that are sure to impress. Whether it's for a birthday, anniversary, or special occasion, these beautifully packaged treats will bring a smile to anyone's face. Show your appreciation or celebrate a milestone with a gift that is both thoughtful and indulgent.
Frequently Asked Questions
Q: Are the doughnuts at Gotham Doughnuts freshly made?
A: Absolutely! At Gotham Doughnuts, freshness is our top priority. Each doughnut is made fresh daily, ensuring that you experience the highest quality and taste.
Q: Can I pre-order doughnuts for my event?
A: Yes, you can pre-order doughnuts for your event. Gotham Doughnuts offers convenient pre-ordering options, allowing you to plan ahead and ensure you have an ample supply of delicious treats.
Q: Are there options for people with dietary restrictions?
A: Yes, Gotham Doughnuts offers a range of doughnuts for people with dietary restrictions, including vegan, gluten-free, and nut-free options. We believe that everyone should be able to enjoy our doughnuts.
Q: How long do the doughnuts stay fresh?
A: The doughnuts at Gotham Doughnuts are best enjoyed on the day of purchase. However, if stored properly in a cool and dry place, they can still be enjoyed for up to two days.
When it comes to making your birthday super sweet, Gotham Doughnuts Melbourne is the ultimate choice. With our dedication to quality, craftsmanship, and customer satisfaction, we have become the go-to destination for doughnut lovers. From our wide range of flavours and toppings to our personalized options and convenient ordering process, Gotham Doughnuts has everything you need to add a touch of sweetness to your special day. So, why settle for an ordinary birthday cake when you can indulge in the extraordinary delight of Gotham Doughnuts? Place your order today and make your birthday an unforgettable experience!
Remember, life is too short to resist the temptation of a perfectly crafted doughnut. Treat yourself, share with loved ones, and let Gotham Doughnuts create moments of joy that will be cherished forever.