Unveiling Melbourne's Must-Try Doughnut Hotspots!
Unveiling Melbourne's Must-Try Doughnut Hotspots!
Melbourne, a vibrant and bustling city in Australia, is a haven for food enthusiasts. With its diverse culinary scene, the city offers a plethora of delightful treats to satisfy every craving. From classic flavours to innovative creations, Melbourne boasts an array of doughnut hotspots that are a must-visit for any doughnut aficionado. In this article, we will take you on a mouthwatering journey through must-try doughnuts in Melbourne, uncovering the hidden gems and popular favourites along the way.
1. Gotham Doughnuts: Innovative Flavour Combinations
Gotham Doughnuts takes pride in pushing the boundaries of flavour and offering a unique taste adventure. Their menu features a wide range of flavours that go beyond the traditional, appealing to the adventurous palate. Imagine biting into a doughnut infused with lavender and honey, or savouring the rich blend of dark chocolate and salted caramel. Gotham Doughnuts Melbourne constantly experiments with new combinations, ensuring that there's always something exciting to try for even the most discerning doughnut connoisseurs.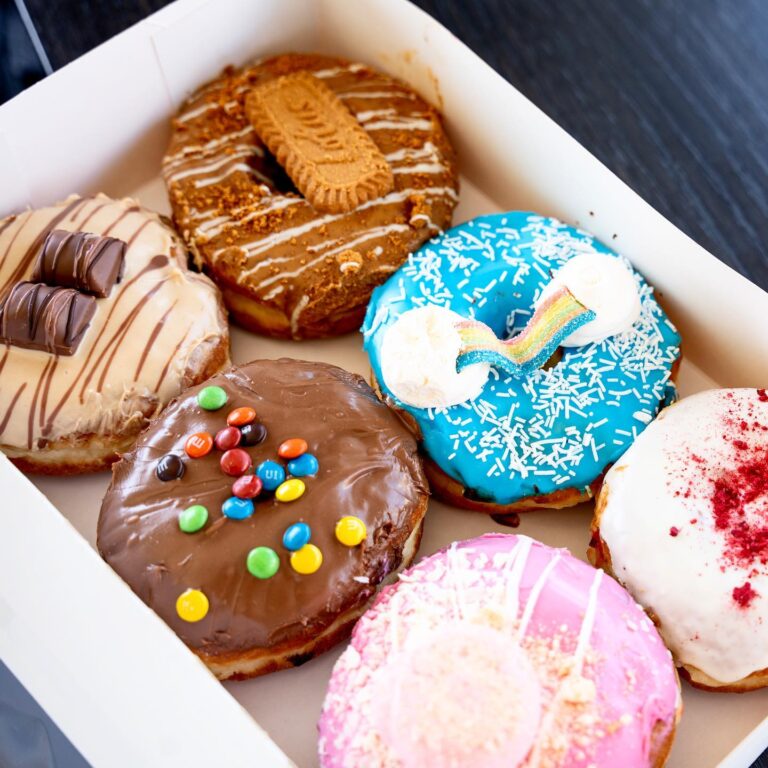 2. Donut King: Irresistible Flavour Selection
At Donut King Melbourne, freshness is a top priority. Each doughnut is freshly baked throughout the day, ensuring that you always get a warm and flavorful treat. The aroma of freshly baked doughnuts wafting through the air is enough to entice anyone to step inside and indulge in a scrumptious delight. Donut King has expanded its reach across the country, including several locations in Melbourne.
3. Doughboys Doughnuts: Handcrafted Perfect Doughnuts
At Doughboys Doughnuts Melbourne, each doughnut is a labour of love. Every step of the process, from mixing the dough to hand-decorating the final product, is done with precision and care. This meticulous craftsmanship ensures that each doughnut is a work of art, both visually stunning and incredibly delicious.
4. The American Doughnut Kitchen: An Iconic Food Truck Experience
In the heart of Melbourne, doughnut enthusiasts can find a taste of tradition and a slice of Americana at The American Doughnut Kitchen. With its longstanding history and commitment to crafting authentic and irresistible doughnuts, this iconic food truck has become a beloved destination for locals and visitors alike. The aroma of the freshly cooked doughnuts fills the air, building anticipation for that first warm and delightful bite.
5. Walker's Doughnuts: Melbourne's Sweet Sensation
When it comes to indulging in mouthwatering doughnuts in Melbourne, one name that stands out is Walker's Doughnuts. With its long-standing presence in the city and a reputation for crafting delectable treats, Walker's Doughnuts has become a beloved institution for locals and visitors alike. In this article, we will explore the world of Walker's Doughnuts, uncovering their commitment to quality, their array of flavours, and the sweet sensations that have made them a must-visit destination in Melbourne.
Whether you're a fan of classic flavours or prefer to indulge in innovative combinations, there is a doughnut shop in Melbourne that will satisfy your cravings. From the flavourful doughnuts at Donut King to the artistic delights at Gotham Doughnuts, each hotspot offers a unique experience that showcases the passion and dedication of Melbourne's bakers. Whether you're a resident or a visitor, make sure to add these must-try doughnut hotspots to your itinerary and indulge in the sweet delights they have to offer. Gotham Doughnuts Melbourne has earned its reputation as a must-visit destination for doughnut enthusiasts seeking a unique and delightful experience. With their artistry, innovative flavours, commitment to community engagement, and dedication to customer satisfaction, Gotham Doughnuts stands out among the crowd. So, don't miss the opportunity to visit Gotham Doughnuts and embark on a delectable adventure in Melbourne's doughnut scene.