Where to Find the Best Milkshakes in Melbourne
Where to Find the Best Milkshakes in Melbourne
If you're a milkshake lover in Melbourne, you're in for a treat! The city is home to a plethora of amazing milkshake joints that will satisfy your cravings for a creamy and indulgent beverage. From classic flavours to unique concoctions, Melbourne has it all. In this article, we'll explore some of the must-visit places offering the best milkshakes in Melbourne.
Let's start our milkshake adventure with Gotham Doughnuts. We are a popular spot that serves delightful milkshakes alongside our delicious doughnuts and has outlets in Ivanhoe, Caroline Springs, Bundoora & Moonee Ponds. Our charming doughnut shop offers a delightful selection of handcrafted doughnuts and fantastic milkshakes. Our milkshakes are made using premium ingredients, ensuring a rich and velvety texture. With a variety of flavours to choose from, such as classic vanilla, chocolate, and strawberry, as well as creative options like salted caramel or cookies and cream, Gotham Doughnuts is a must-visit for any milkshake aficionado.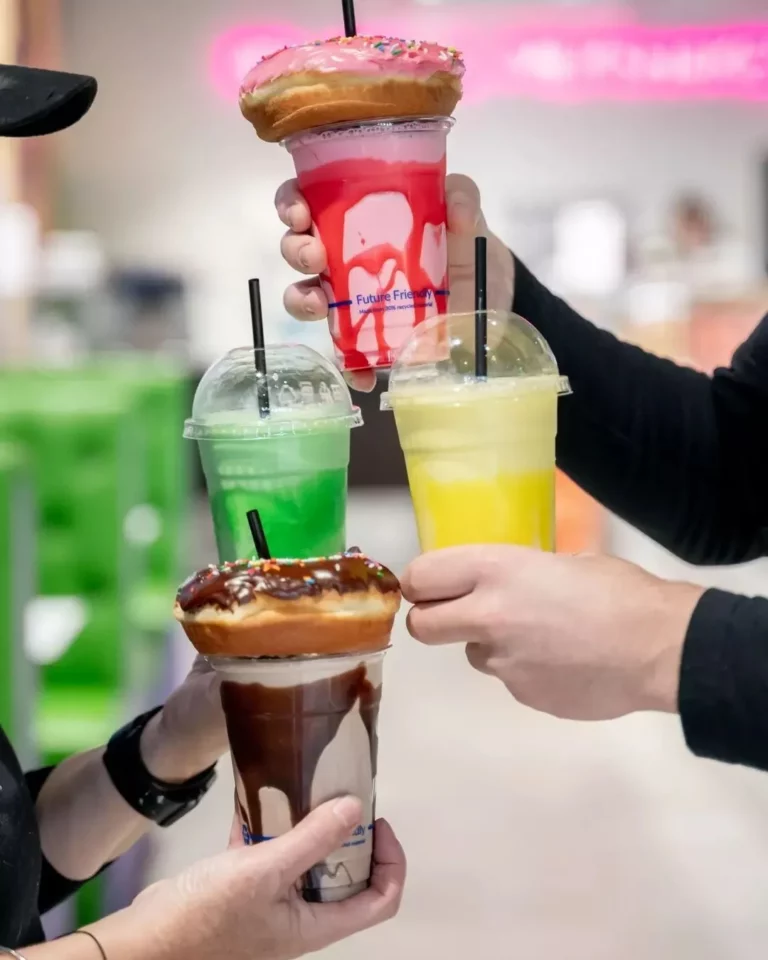 Hello José, a Mexican-inspired eatery, not only serves incredible tacos but also offers fantastic milkshakes. Their shakes are a fusion of Mexican flavours and classic milkshake goodness. Indulge in their "Churro Shake," a creamy blend of vanilla ice cream, cinnamon, and a sprinkle of churro crumbles. For a fruity twist, try their refreshing "Mango Tango Shake," made with fresh mangoes and a hint of lime. Hello José's unique take on milkshakes is definitely worth a visit.
If you're looking for a more upscale milkshake experience, Rockpool Bar & Grill is the place to go. This renowned steakhouse offers a decadent range of milkshakes made with top-quality ingredients. Indulge in their signature "Choc-Mint Supreme" milkshake or try their luscious "Salted Caramel Delight." The combination of rich flavours and a sophisticated ambience make Rockpool Bar & Grill a fantastic choice for a special milkshake treat.
Royal Stacks is known for its mouthwatering burgers, but they also excel in the milkshake department. Their shakes are thick, creamy, and packed with flavour. Whether you opt for a classic chocolate shake or try their indulgent "Salted Caramel Pretzel," you're in for a treat. The retro-inspired atmosphere of Royal Stacks adds an extra charm to your milkshake experience.
5. Bobby's Coffee & Bagels:
Last but not least, we have Bobby's Coffee & Bagels. This cosy café is a hidden gem that serves some of the best milkshakes in Melbourne. Using premium ingredients and a touch of creativity, Bobby's Coffee & Bagels offers a variety of mouthwatering milkshakes to satisfy your cravings. From classics like vanilla and chocolate, you'll find a milkshake that suits your taste buds perfectly
In conclusion, Melbourne is a milkshake lover's paradise, offering a wide range of delectable options to satisfy every craving. From the creamy delights of Gotham Doughnuts to the nostalgic shakes at Bobby's Coffee & Bagels, each location mentioned in this article has something unique to offer. Whether you're in the mood for a classic flavour or a creative twist, these establishments are sure to serve up the best milkshakes in Melbourne. So, grab a straw and embark on a milkshake adventure across the city to discover your new favourite spot. Cheers to indulgence and happy sipping!