Sweet Delights and Whimsical Wonders: Crafting Kids' Parties with Dessert Party Boxes
Sweet Delights and Whimsical Wonders: Crafting Kids' Parties with Dessert Party Boxes
Kids' birthdays are a celebration of joy, laughter, and cherished moments. As a parent, planning a remarkable party requires a blend of creativity, organisation, and a touch of magic. In recent years, the concept of party boxes has gained immense popularity, offering a hassle-free way to create themed celebrations. Among these, Gotham Doughnuts stands out as a versatile option that caters to a variety of occasions. In this article, we'll delve into the world of dessert party boxes, explore the diversity of occasions they can elevate, and introduce you to some local Melbourne caterers who share the same commitment to creating lasting memories.
The world of kids' parties has transformed into a realm of creativity and inspiration. Dessert party boxes have emerged as a hassle-free solution to crafting visually appealing and scrumptiously satisfying celebrations. These boxes encapsulate the essence of the theme while offering an array of treats that dazzle both the eyes and taste buds.
Elevating Celebrations with Dessert Party Boxes
Dessert party boxes encapsulate the essence of celebration, offering a curated experience that combines treats, decorations, and a sprinkle of magic. These boxes eliminate the stress of coordinating various elements and provide a harmonious and visually stunning presentation.
Gotham Doughnuts: A Universal Delight
Gotham Doughnuts, a shining star in the world of party boxes, offers an array of delectable doughnut delights that cater to diverse tastes and themes. From classic glazed to whimsical toppings, Gotham Doughnuts infuses every box with creativity and scrumptiousness doughnuts in Melbourne.
Occasions That Shine with Dessert Party Boxes
Birthday Bashes
Whether it's a superhero-themed extravaganza or a fairy tale fantasy, dessert party boxes bring the chosen theme to life. Gotham Doughnuts' themed doughnuts add a delightful touch, making the birthday child feel truly special.
Baby Showers
Celebrate the imminent arrival of a little one with a dessert party box that matches the baby's gender or nursery theme. These boxes create a memorable and joyous atmosphere for expectant parents and guests.
Graduation Gatherings
Marking the end of an academic journey deserves a grand celebration. Dessert party boxes adorned with graduation caps and scrolls add a whimsical touch to the achievement.
Holiday Happenings
Transform holidays into unforgettable memories with themed dessert party boxes. From Halloween spookiness to Christmas cheer, these boxes enhance the festive spirit.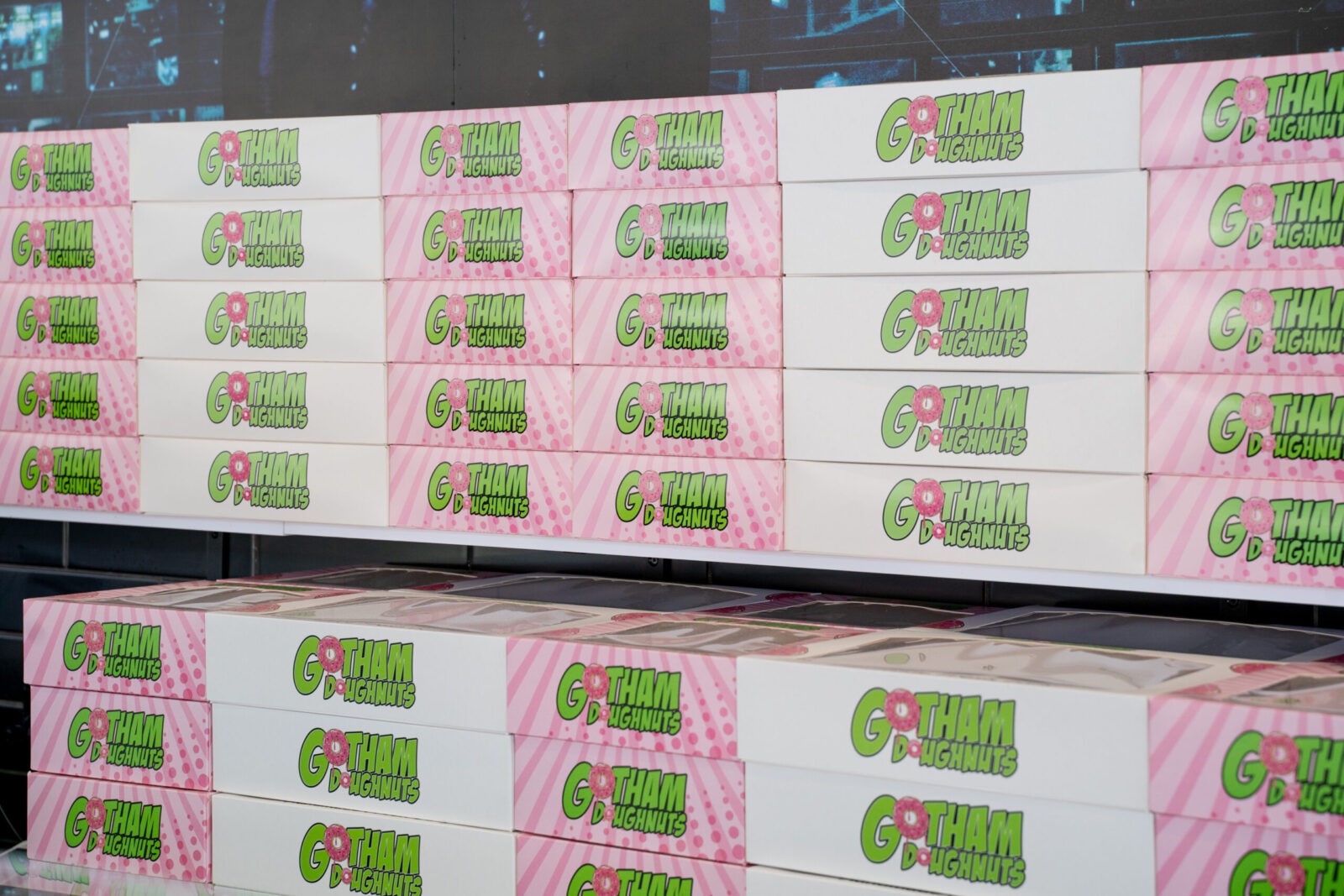 Local Melbourne Caterers Crafting Magic
Adding a touch of doughnut magic to your events, Gotham Doughnuts offers an array of delectable doughnut delights that are perfect for dessert party boxes. With their versatile flavours and themed options, Gotham Doughnuts brings joy to every celebration. You can find Gotham Doughnuts' locations across Melbourne, making it convenient to indulge in our delightful creations. Whether it's a birthday bash or any other special occasion, Gotham Doughnuts adds a sprinkle of sweetness to your festivities.
2. Heavenly Treats Events
Heavenly Treats Events crafts dessert party boxes that are nothing short of heavenly. With a wide range of options and impeccable presentation, they elevate celebrations to the extraordinary.
3. Sugar Plum Party Perfection
For parties that exude whimsy and charm, Sugar Plum Party Perfection delivers. Their dessert party boxes are a feast for the senses, leaving guests delighted and amazed.
Making Every Kids' Party Shine
Theme and Decor Magic
Choose a theme that resonates with the birthday child's interests and personality. Coordinate decorations, colours, and even costumes to enhance the immersive experience.
Engaging Activities
Plan age-appropriate activities that keep the little guests entertained. Craft stations, treasure hunts, and interactive games add an element of excitement and engagement.
Thoughtful Party Favors
Extend the magic of the party with thoughtful party favours that reflect the theme. These tokens of appreciation ensure that the guests leave with smiles and memories.
Q1: Can dessert party boxes be customised?
Many providers offer customisable options, allowing you to choose treats, decorations, and even personalisation details.
Q2. Are dessert party boxes suitable for larger gatherings?
Yes, dessert party boxes can be scaled to accommodate varying party sizes, ensuring every guest gets a taste of the magic.
Q3. How do I place an order for a dessert party box?
Visit the provider's website, explore the options, choose your theme, treats, and customisation preferences, and follow the ordering instructions.
Q4. Can I accommodate dietary restrictions?
Many caterers offer options for various dietary preferences, including gluten-free, vegan, and nut-free treats.
Q5. What's the delivery process for dessert party boxes?
Delivery processes vary by provider. Typically, you'll specify the date and location, and the caterer will ensure timely delivery.
Tips for Crafting the Ultimate Kids' Party
Theme Connection: Choose a theme that resonates with the birthday child's interests and passions.

Interactive Elements: Incorporate interactive games, craft stations, and activities that keep the kids engaged.

Captivating Decor: Transform the party space with decorations that immerse guests in the chosen theme.

Magical Favours: Select party favours that reflect the theme and serve as cherished tokens of the celebration.

Sweet Delights: Indulge the senses with a dessert party box filled with treats that match the theme and captivate taste buds.
Dessert party boxes, exemplified by Gotham Doughnuts and local Melbourne caterers, have revolutionised the way we celebrate kids' occasions. By infusing creativity, convenience, and deliciousness into every box, these caterers ensure that the celebration is not just an event but a cherished memory that lingers in the hearts of children and parents alike. Whether it's a birthday, a shower, a graduation, or a festive holiday, dessert party boxes promise to create unforgettable moments that stand the rest of the time. 

Order Dessert Party Boxes for your next event!